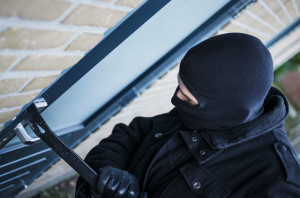 Burglary is a crime based on someone entering a room, structure, or locked vehicle where people live or work, in order to steal something or to commit a felony. Crimes typically associated with burglaries include simple assault, robbery, theft, aggravated assault, sexual assault, rape, and murder.
Even if someone does not use force to enter, you can still be charged with burglary. If a garage door is left open and someone walks in and takes a lawn mower, that person can be charged with burglary.
Criminal defense lawyer David Knoll knows the local courts in Sacramento and knows how to represent you effectively against burglary charges.
Residential Burglary in California
If you broke into a residence, including a house, apartment, trailer, RV, or hotel or motel room, this is known as residential burglary and you will be charged with a first-degree burglary felony.
If convicted, you could be sentenced for two to six years in the state prison and the conviction will serve as a strike against you under California's Three Strikes law.
Commercial Burglary in California
A commercial burglary charge is made when you break into a business, office building, store, or other commercial structure that is not used as a residence. In this situation, you will be charged with second-degree burglary. It is up to the district attorney to determine whether to charge you with a misdemeanor or felony. The decision will be based on the circumstances surrounding the burglary and your past criminal record.
Punishment for a misdemeanor commercial burglary carries a sentence of up to one year in the county jail; punishment for a felony commercial burglary carries a sentence of up to three years in state prison. Neither the commercial misdemeanor nor felony burglary charges are counted as strikes against you, but you still want a capable defense from Sacramento criminal lawyer David Knoll.
Sacramento Attorney David Knoll's Burglary Defense
In order to be convicted of burglary, the district attorney has to prove intent. He has to prove that you broke into the building for the specific purpose of taking something that didn't belong to you, or that you intended to commit an assault. Attorney David Knoll vigorously challenges the D.A. to prove the case against you.
A felony conviction stays with you forever, and forever changes your future and that of your friends and family. With decades of winning experience handling burglary cases for his clients, David Knoll is the skilled defense attorney you want on your case. Don't go it alone! Let the law office of David Knoll assist you against your burglary charge.
Help with Burglary Charges